Do You Have a Dry Itchy Scalp? Try These Ayurvedic Remedies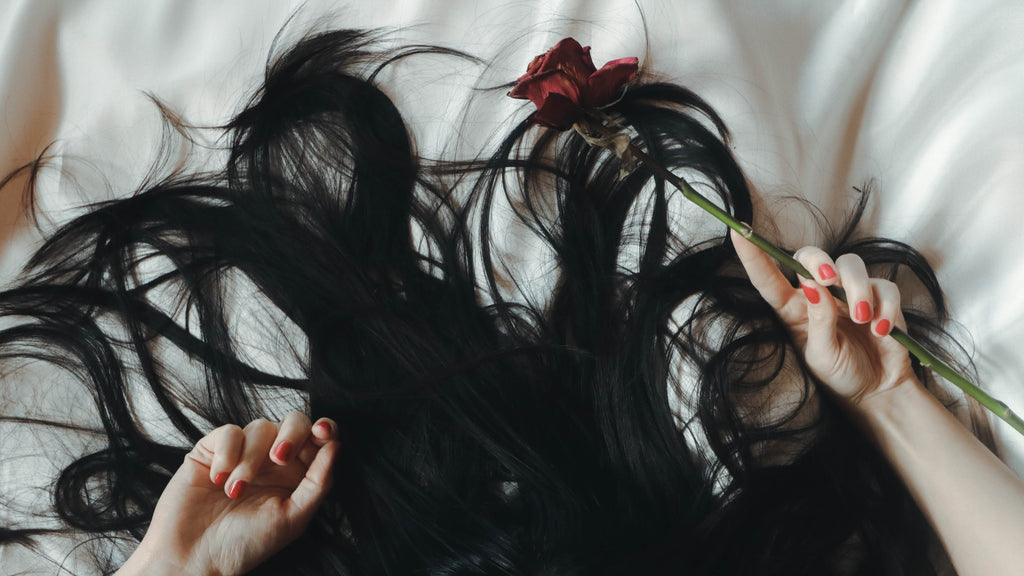 A comprehensive guide to treating a dry itchy scalp using naturally-derived Ayurvedic ingredients and ingredients
With the rise in stress and pollution levels, scalp itchiness and flakiness have become a common issue leading to a host of other hair problems like dandruff and hair fall. Nonetheless, organic ingredients, like those rooted in Ayurveda, have been known to combat a dry itchy scalp by holistically nourishing the hair from root to tip, inside out, thus promoting the scalp's health.
What causes a dry itchy scalp?
Usually occurring as a seasonal hazard during winters, a dry itchy scalp indicates a lack of hydration and may be caused by any of the following:
Irregular washing of hair leading to dirt accumulation and build-up from products like dry shampoos
Medical conditions such as psoriasis, scalp eczema and seborrheic dermatitis
Intense use of heat from hair styling products like straighteners and curlers
Use of hair products that contain parabens, formaldehyde, sulfates and fragrance
A poor diet deficient in nutrients
How to combat a dry itchy scalp?
A healthy scalp means healthy hair. If you experience constant dryness and itchiness, there is a good chance that you have a sensitive scalp. Here are five naturally-derived Ayurvedic ingredients that provide a holistic solution to a dry itchy scalp by maintaining moisture and keeping irritants away:
Neem
The oil extracted from the seeds and fruits of the neem tree contains numerous fatty acids such as linoleic, oleic and stearic acid, which deeply nourish the scalp and restore dryness to give healthy and lustrous tresses. Furthermore, the anti-fungal and antibacterial properties of this ancient medicinal plant help treat scalp sensitivities like dryness and itchiness. 
Kokum Butter
Kokum Butter, a nutrient-dense Ayurvedic ingredient, is an emollient that moisturizes the scalp by forming an even film to seal moisture and prevent dryness and flakiness. Derived from the seeds of a fruit-bearing tree called kokum tree, kokum butter has a lightweight cream texture that penetrates the skin to restore moisture while deeply nourishing and hydrating dry scalp without clogging any pores.
Moringa
A nutrient-dense plant, moringa is rich in vitamin C and essential amino acids, the anti-inflammatory properties of which help soothe scalp sensitivities and alleviate dryness and itchiness. The oil derived from the seeds of the moringa plant contain monounsaturated fats that effectively clean the scalp while protecting its moisture levels. Moreover, its anti-inflammatory properties may soothe symptoms of psoriasis and help with scalp scaling.
Turmeric
A bright yellow spice, turmeric is a powerful anti-inflammatory herb that stimulates scalp health and helps prevent dandruff. This age-old spice has become a staple in Ayurvedic beauty and works as a natural exfoliator to treat various scalp issues such as flakiness, itchiness and clogged hair follicles. Its healing properties deliver a soothing feel to the scalp, thus promoting long and lustrous hair.
Aloe Vera
Aloe vera is widely known for its hydrating and soothing properties. It is a natural humectant that helps stimulate cell regeneration and add moisture to the scalp. Praised for its healing properties in ancient Ayurvedic studies, aloe vera contains enzymes that help combat an itchy and flaky scalp. It also acts as a natural cleanser to eliminate product build-up, dead skin cells and excess sebum that clogs hair follicles and can cause dandruff if not treated properly.
How to get rid of a dry itchy scalp using Ayurvedic products?
Handmade Neem Wood Comb, handcrafted by wood artisans in Bardhaman, India, this wooden comb provides nutrients to hair follicles, removes impurities, prevents scalp irritation and keeps dandruff at bay to give you a healthy and balanced scalp. Furthermore, it contains soft bristles and is very gentle on the scalp.
Scalp + Hair Prewash is a creamy hair mask formulated with twenty-five nutrient-rich Indian Ayurvedic herbs, oils and flowers. Its key ingredients include amla oil, kokum butter, neem oil and turmeric root oil that contain moisturizing and oil-balancing properties. The presence of neem, an anti-fungal and anti-inflammatory plant, also helps soothe scalp sensitivities like itchiness. Moreover, it is free of sulfates, synthetic dyes & fragrance.
Repair Hair Oil With Moringa and Vetiver is an award-winning nourishing and restorative hair oil that moisturizes and balances dry scalp and is suitable for all hair types. Its anti-inflammatory properties help soothe scalp sensitivities and alleviate itchiness. Massage a few drops of the oil into your scalp and allow it to soak in for at least 20 minutes before starting your hair wash routine. Remember to follow a hair washing regimen as per your hair type as that will keep your natural oils intact and prevent dryness.