Get To Know Our Designer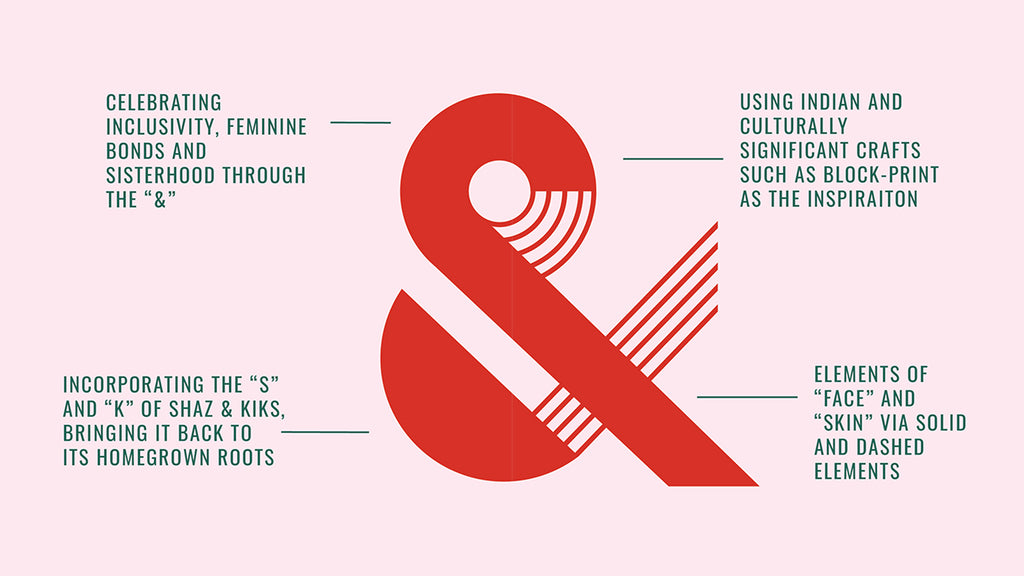 Manmayee Desai, a Mumbai-based designer, illustrator, and photographer, has been our lead designer from day 1. She has created our brand's visual language and has helped establish the logo, packaging, site design, and our social creatives. She's a force to be reckoned with and incredibly talented. We sat down with her (well over Zoom) and asked her a few questions about her design process, her favorites things about SHIKS, and what her favorite plant out of her 80 house plants are.

S&K: Tell us a little about yourself — your background, how you decided to become a creative designer, your creative journey.
M: My earliest memories are that of doodling, painting, and drawing as early as three years old, on the back of my mom's old Ph.D. documents. I'm blessed to come from a family of great academics and artists. My parents took me to my eventual alma mater - the National Institute of Design when I was just four, and I carried the dream of wanting to go there almost up to the point that I did. 
NID has notoriously difficult entrance criteria — only about 100 applicants from 100,000 are accepted each year — but there was never a doubt in my mind that I would make it. 

Art has always been my identity, something I turn to when I'm not feeling great — it's a secret language I have with myself. I take that with me to work today, hoping to bring that language to brands and help other people find new ways to represent their product and find their own unique voice in the market. 

This past year, I've been working on my own collaborative studio called Haiku Design House — a place for all kinds of creative people to come together to work on great projects for like-minded clients around the world. We've worked with brands like Nike, Absolut, Nestle, Castrol, MTV and so many more. We also work closely with independent creators to bring boutique brands to market. 

A career in design is about passion — everything else is a happy byproduct. I strongly believe that everyone should find that something they love more than anything and make it something useful that the world at large can enjoy. 

S&K: How would you describe your own design aesthetic? In your free time, what do you love to work on?
M: The culmination of art and business is design and the true core of design is use. Art can serve as a witness to culture and society, or talk intimately about the artist's journey, but design has to be useful every day to the end consumer. I've found that being versatile and attentive are a designer's best attributes — to be in tune with what's going on in the world, to ask questions. What are people responding to? What will create value for the end-user? How is my work different from the rest, and is it meeting its intended purpose? In that sense, I've been able to mold my aesthetic to suit the brand I'm helping build. 

It's been hard finding one aesthetic or one medium to be faithful to. Today Haiku serves the niches of illustration, branding, web design, social media and so much more. Being so intimately connected to design has also had its issues - and I've been consciously trying to branch away and find other facets to my personality. I can't seem to get too far, though, since I'm still only gardening or crafting or DIY-ing ... all very creative pursuits. 

S&K: When starting to work on SHAZ & KIKS branding and logo, what was your design process and inspiration?
M: I feel extremely lucky to have been able to help bring SHAZ & KIKS to the shelf. Building a brand and in turn, formulating the logo is a hugely collaborative process. I sometimes think of it as mind-reading — you're unlocking clues each iteration about what the founders want to convey and are trying your best to help it find a form. 

We chose "&" as a symbol for SHAZ & KIKS as it truly seemed like the most inclusive symbol. It seemed to say: yes to you… and the next person… and yes to every other person who wants to let themselves in — something that resonated with the brand's values. On another level, the "&" also symbolized duality — a sisterhood, mirrored by you, Shaz and Kiku!

To delve deeper, the form of the "&" ultimately came to represent aspects of the female form — the linear tail of the ampersand signified hair, while the curved geometric solids stood for skin and curves overall. It also seemed like a broad form that could accommodate other products that the brand could expand into, thus being a long-living mark.

Our inspirations for treatment explored traditional Indian techniques — block print, henna art — forms of Indian weave, loom work, painting styles and traditional art forms. We wanted to subliminally talk about Ayurveda, and even incorporated a mixing bowl into some of the iterations. 

S&K: What has been your favorite SHAZ & KIKS piece that you have worked on?
M: I like working on social media projects for the very selfish reason of always having something new to ideate upon and create. I'm spending a lot of time painting women with all kinds of hair - working on infographics and typography, what could be more fun? Whether this is truly the brand's voice or my own doing - well, that's debatable!

I hope SHIKS social becomes a fun place for women to find information, build a community, and engage with the product. That's what the intent always is with the graphics I create for @shazandkiks.  

What I really appreciate about our collaboration is that it truly feels like one. I have the free reign to create what I think works best for the brand, with the full support of the founders. This has been crucial, as it's helped me demonstrate that I truly have the brand's best interests at heart. I've seen it make its journey from idea to shelf, and I feel, in some small way, responsible for its well being. 
Favorite travel destination: 
Stewart Island, nestled in the south of New Zealand has forests that are untouched by colonizing species of plants. It boasts of hundreds and thousands of endemic species of animals, birds, and insects, all set against the backdrop of a quiet, small, seaside town called Oban. I recommend it to anyone who loves hiking, camping, and being outdoors!
Go-to inspiration destination when stuck on a project:
I'm a self-proclaimed Pinterest fiend. I specifically like curating pinboards about home decor, plant styling, and interior design. 

Favorite piece of furniture in your home? 
I have a china cabinet with really interesting doors made of old Jaipur block-print wood! I don't think I'll be able to find one like it ever again, and I'm definitely taking it with me wherever I go.
You're a plant lover, what's your favorite plant in your home? 
I have some 70-80 plants in my collection, so it's hard to pick - though I would have to say a recent favorite is a rare variety of tradescantia called "Nanouk" and she's supposed to be bushy and fabulous. Unfortunately, I got her as a stem with only a few dry leaves to boot, but since then, she has put out so many new shoots - I love her because she's such a fighter. Also, who can say no to such beautiful purple leaves?? Check out Manmayee's plant Instagram... so much green!
Favorite thing about your hair?
I have very thick, voluminous, curly hair. I've had my moments wishing it was naturally straight in the past, though today I am very thankful and grateful that I have healthy, resilient hair that always rewards me the moment I put some TLC or thought into taking care of it. All it takes is some oiling, a few masks here and there and voila! Shiny, bouncy, voluminous hair. I wouldn't trade it for anything. 
Photos by Manmayee Desai