How to Take Care of Grey Hair?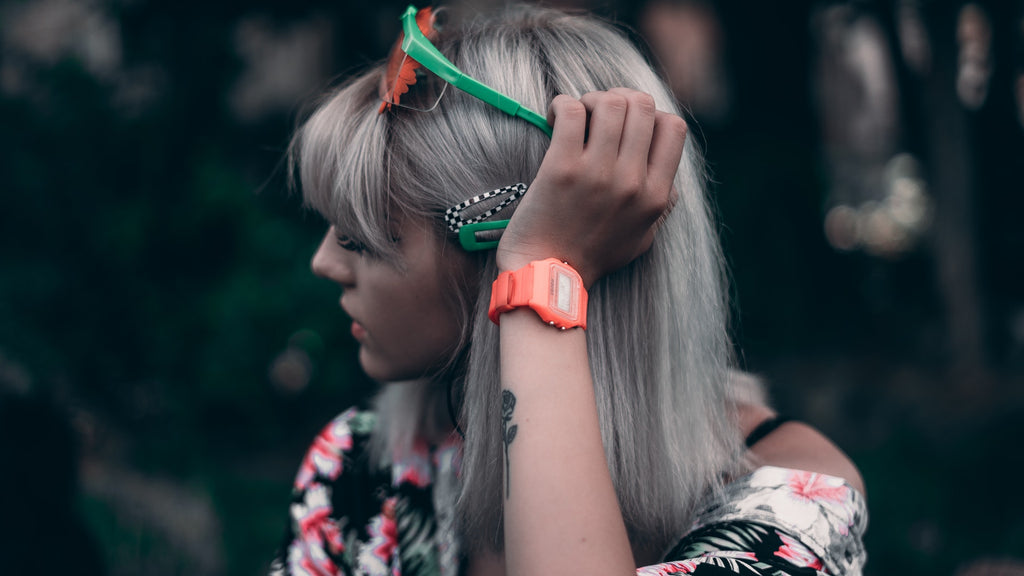 Are you feeling ready to embrace your grey hair but wondering how to take care of it? From haircare habits to products, here's everything you need to know.
Aging is a natural process, and the world is finally embracing it. And while grey hair is a common sign of aging, it can actually begin at an early age. But why does it happen? Since the pigment in our hair decreases as we lose melanin, our hair becomes colorless or grey.
Gone are the days when hiding grey hair was the norm. Whether you choose to color your greys or flaunt them– what you do is your personal choice. If you have decided to embrace your grey hair, you must know that maintaining grey hair requires some effort. Since grey hair is relatively dryer and more fragile, you will have to tweak your haircare routine to keep your locks healthy. But don't fret, we've got you covered.
How to take care of grey hair?
Wondering how to take care of grey hair? Follow these tips and tricks to restore the health of your grey hair so that it's healthy, strong and shiny.
Avoid using harsh and drying shampoos
If you're wondering how to take care of grey hair, the first thing you need to do is rethink your bathroom shelf. Since grey hair is often dryer, we recommend that you stay away from hair cleansing products loaded with harsh chemicals. We recommend using more gentle shampoos with natural ingredients. If you are searching for a gentle shampoo, our Balancing Clay Hair Cleanser is an amazing option. With the goodness of Multani Mitti, minerals and nutrient-rich Ayurvedic plants, this gentle hair cleanser gets rid of excess oil, dirt and build-up, without making your hair dry and frizzy.
Keep your hair nourished
Because grey hair tends to be drier, you'll want to make sure the hair care products you choose are extremely hydrating and nourishing. Mineral oils, sulfates, parabens and alcohols should all be avoided. Our Back To Your Roots Scalp + Hair Prewash is an excellent option to restore moisture back into grey hair. This creamy plant-based hair mask is carefully prepared with 20 nutrient-rich Indian Ayurvedic herbs, oils and flowers to make your locks healthy and lustrous.
Protect your grey hair from the Heat
If you want to know how to take care of grey hair, the best way is to protect your hair from heat. We recommend avoiding excessive usage of heat styling tools like blow dryers and straighteners. Heat exposure can damage your grey hair and give them a yellow tint. In order to prevent this, minimize the usage of these tools and make sure that you always use a heat-protectant styling product.
Use vitamin E
If your grey strands look dull and lifeless, vitamin E is a great ingredient to incorporate into your hair care routine. A vitamin E-rich oil can restore the protective fat layer on the outside of your hair's cuticle and make your grey hair look healthy, shiny and smooth. If you are wondering how to take care of grey hair; and make them healthy and manageable, we recommend moringa seed oil. Moringa seed oil is an excellent way to reap the benefits of vitamin E. You can try our Repair Hair Oil with Moringa+Vetiver. With the goodness of Moringa Seed oil, Night-Blooming Jasmine and Macadamia oil, this serum is a perfect way to revitalize your dull and dry hair. 
Be gentle
If you're wondering how to take care of your grey hair, it's important to understand that it's more fragile, hence more susceptible to breakage. To combat this issue, we recommend being gentle on your silver stands. If you want to prevent breakage, wearing your hair in a topknot while sleeping, is a good idea. Swapping cotton pillowcases with satin or silk ones will also prevent hair damage. You should also consider switching your plastic comb with a wooden comb as it has a plethora of hair benefits. Our Shaz + Kiks Handmade Neem Wood Comb is a good option as it's gentle, has antimicrobial properties and promotes blood flow to the scalp.