Quinoa Khichuri: Help Dry, Itchy Scalp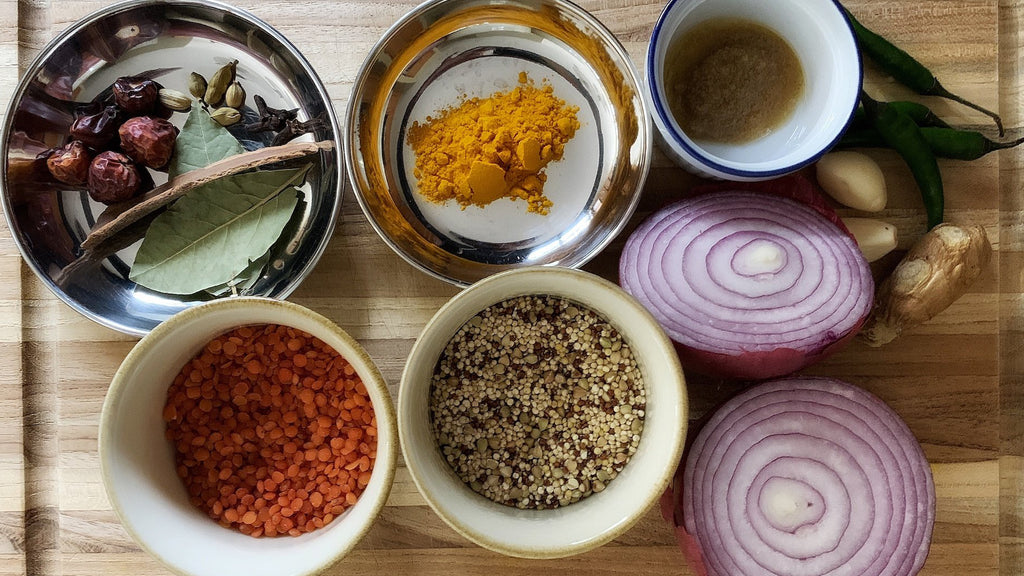 THE PROBLEM: DRY, ITCHY SCALP
FOOD SOLUTIONS: 
This recipe is an adaption of a Bengali comfort food recipe that we grew up with. While normally khichuri is typically made of rice and daal (lentils) boiled together with spices, I've substituted a less-carb-rich alterative to rice with one or more ancient grains, like quinoa. My mother always served khichuri in the traditional Bengali way — with either a fish cutlet, an omelet, or 'begun bhaja' (pan fried eggplant slices) — and almost always eaten on a rainy day or when we weren't feeling well. It's crazy how these childhood associations stay with you…
Lentils are high in vitamin B that helps your body to make new cells and strengthen and condition scalp and hair. Lentils contain the third highest amount of protein of any legume, following soybeans and hemp (perfect for vegetarians and vegans!).
Ancient Grains, along with being a much healthier option than refined white rice, a whole grain like quinoa contains all nine amino acids, making it a complete protein. In addition, they are super high in vitamin B, iron, zinc, magnesium, and calcium. A zinc deficiency can result in dry scalp and hair.
Turmeric's healing properties reached mythical levels growing up in an Indian household — a cure for pretty much everything. Those of us who have grown up with turmeric as a household item chuckle at the fad around turmeric lattes and turmeric smoothies. Scientifically though, it's actually true! The antiseptic and anti-inflammatory qualities of turmeric help soothe and rid dandruff. Read more about how to absorb turmeric. 
THE RECIPE: QUINOA KHICHURI
- 1 cup quinoa (I used a pre-mix of quinoa, buckwheat and millet for an added boost!)
- 1/2 cup Masoor daal (red lentils)
- 1 heaping tsp turmeric powder
- 1 large onion, cut into medium slices
- 4-6 cloves garlic, grated or diced
- Green chilies (if you like it spicy)
- 6-8 whole black pepper
- 4 whole cardamom, smashed*
- Dry chili*
- 1 bay leaf*
- 1 tbsp ghee**
* These dry spices give a great flavor, but if you want it to tone it down a little, you can leave it off – will still taste good!
** You can leave out the ghee if you're going for a vegan meal. Instead you can use coconut oil, grapeseed oil, or your oil of choice. 
1. Rinse the daal and quinoa together and soak in 2 cups of water for 30 minutes in a saucepan.
2. Add the turmeric and salt to taste and bring to a boil on high heat.
3. Once the liquid is boiling, cover and bring down the heat to medium.
4. Check it after 20 mins to make sure it doesn't need more water. If it looks like the bottom is sticking and it's getting too thick, then add a little more hot water and continue to cook. It should take about 30 minutes for the daal to become a mushy texture and for the quinoa to cook.
5. While the daal/quinoa mix is cooking, get all the other ingredients prepped.
6. In a sauté pan, add a little oil and the ghee — heat on medium. Add the dry spices and onion and sauté until the onion are soft and slightly caramelized. Add garlic and chilies and sauté for another minute or so.
7. Once the daal mixture is cooked, transfer the onion mixture into the dal saucepan, mix and cook together for another 5 minutes.
8. Voila — a vegan, gluten meal that tastes yummy and is a step closer to a healthy, nourished scalp!
P.S. I like simple khichuri like this, but many folks put in other veggies in the boiling phase – peas, squash, potatoes — it's versatile enough to add whatever your heart desires.
Other SHIKS EATS Recipes That Are Good for Your Hair, Skin & Nails: