Why Plant-Based Shampoo Is Best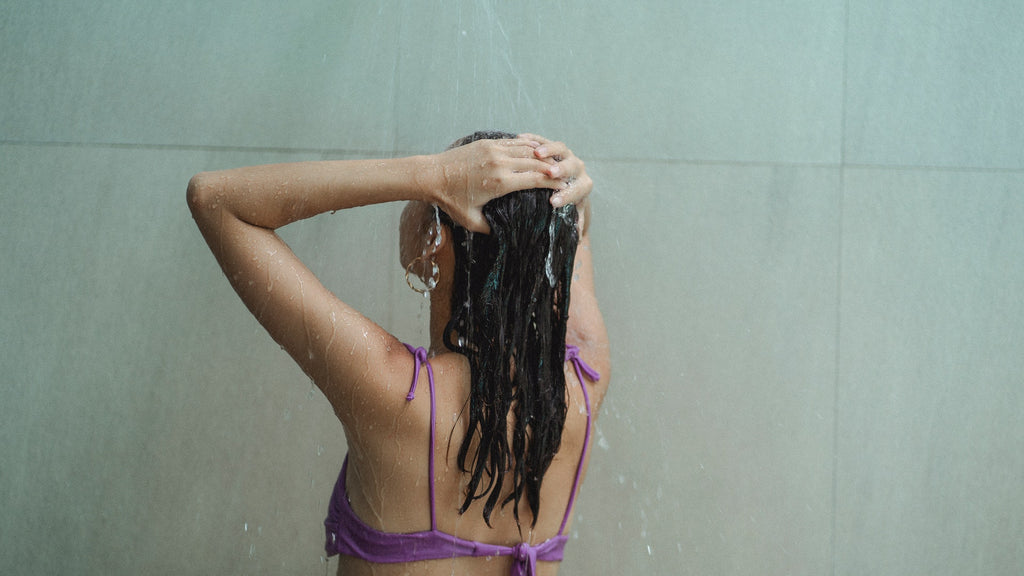 Five amazing benefits you stand to gain from making a plant-based shampoo a part of your regular hair care routine.
Did you know that you could transform your hair care regime using plant-based formulas that actually work? From treating scalp eczema to giving your hair a healthy bounce and volume, plant-based shampoos contain naturally-derived ingredients that gently cleanse and nourish your hair without clogging pores. Plus, they are environment-friendly and free of harmful ingredients found in chemical shampoos.
Why should you avoid chemical shampoos?
Most chemical-laced shampoos have a harmful mix of surfactants, solvents, and sulfates, which rob your scalp of moisture and end up damaging hair follicles. Conditioners that are made to soften the hair also have ingredients like processed palm oil that clog the scalp and cause product build-up. Chemical ingredients like sulfates are also added to give you instant results. However, the long-term effects can be devastating, resulting in skin sensitivity and dryness. All these factors prompt the need of using plant-based formulas that give you healthy hair without compromising your scalp health or long-term hair growth. Enter plant-based shampoos.
Why should you switch to plant-based formulas?
Whether you are suffering from hair loss or an itchy scalp, plant-based formulas are loaded with nourishing ingredients that can treat your hair woes without harming your hair in the long run. Here are five reasons why a plant-based shampoo is best:
It contains nourishing ingredient
Plant-based shampoos are formulated to include nourishing Ayurvedic herbs like multani mitti, tulsi and shikakai that gently absorb excess oil, build-up and dirt while keeping your natural oils intact. Plus, they are choke-full of antioxidants and essential vitamins that deeply nourish the scalp and relieve any dryness or itchiness. These herbs have been traditionally used as hair cleansers for centuries due to their strong cleansing properties. Moreover, the hair-strengthening nutrients in these herbs help promote hair growth and reduce breakage and hair fall.
It is free of chemicals
Chemicals like parabens and sulfates can lead to dry and brittle hair. However, they do more than just cause damage to your hair. Research has suggested that chemicals like parabens and phthalates, generally found in shampoos, disrupt the hormonal system and may cause reproductive and other health problems. Triclosan (TCS), an ingredient found in shampoos, turns into chloroform when combined with chlorine in tap water. This chloroform is carcinogenic.
Plant-based shampoos are made of organic and natural herbs. They are free of synthetic chemicals that can lead to dry and damaged hair and cause severe health problems.
It is suitable for sensitive scalp
Most soap-based shampoos usually have a high pH, usually above seven. These shampoos can dry out your scalp and create the perfect environment for an eczema flare-up. Plant-based formulas are very gentle on the scalp. They absorb excess oil, build-up and dirt without drying your hair or scalp. Plus, they are free of artificial fragrances which are one of the most common triggers of conditions like eczema.
A plant-based shampoo that we highly recommend for the sensitive scalp is our Balancing Clay Hair Cleanser. It is free of sulfates and fragrance and is loaded with the goodness of multani mitti, a natural ingredient that absorbs dirt and build-up while keeping your natural oils intact. 
It naturally supports scalp health
Harsh, chemical-laden products can negatively impact your hair health. Plant-based shampoos containing Ayurvedic herbs like amla, bhringraj and brahmi can boost your scalp health and promote hair growth. In a 2011 study, Bhringraj was found to be highly effective at fighting bacteria and fungus. This means it could help treat certain bacterial infections and boost your scalp health.
Our Unearth Yourself Nourishing Naram Conditioner is an excellent option to incorporate Bhringraj into your hair care routine.
It is environment-friendly
Shampoos filled with harmful chemicals do not just strip your hair of natural oils. These chemicals and the plastic bottles that they come in causing extensive damage to our environment. For example, sulfates flow down the drain into local rivers or oceans and wreak havoc on fragile ecosystems. The plastic bottles also decompose slowly and release harmful chemicals that may end up contaminating our groundwater and air.
Plant-based formulas powerfully nurture the health of your hair using naturally-derived ingredients that are clean, sustainable and very gentle to grow on our planet.
We at Shaz & Kiks are committed to being plastic neutral. Our shipper box, outer tube and brand brochure are all 100% recyclable. And our jars are made with type 5 plastic, one of the easiest types of plastic to recycle. We are constantly working on finding alternative solutions that are the least harmful to our environment.